Same Day Agra Tour by Gatimaan Express Train
Duration: Same Day
Destinations Covered: Delhi - Agra - Delhi by Train (except Friday)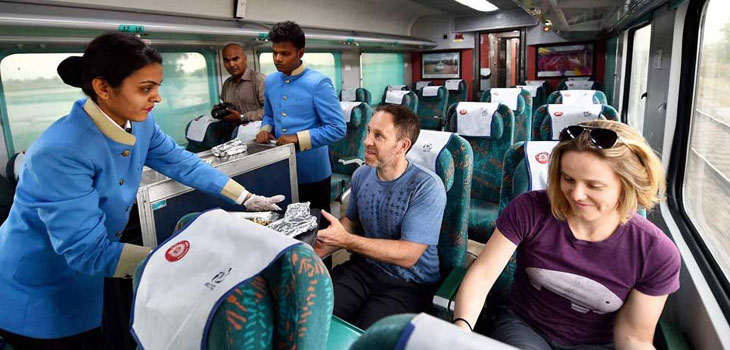 Note - *Taj Mahal Remain Closed on Friday
We Offer a comfortable and convenient way to visit the Taj Mahal, as it allows travelers to reach Agra in a short time and return to Delhi the same day. One day Taj Mahal tour from Delhi by Gatimaan Express Train is best for business travellers who can visit Taj Mahal on weekend. Gatimaan Express departure time from Hazrat Nizamuddin, New Delhi is 08:10 AM and reach Agra at 09:50 AM. It's only 1 hour 45 minutes journey from Delhi to Agra.The Gatimaan Express is a high-speed train that runs between Delhi and Agra, covering a distance of approximately 200 km in just under two hours. It is the fastest train available to travel to the Taj Mahal and a convenient option for those who want to avoid the traffic and crowds of Agra.Taj Mahal tour by Gatimaan Express train.
06:30 AM : Delhi - Agra By Gatimaan Express Train
As per train schedule our driver will pick you up from hotel by AC car within central Delhi and transfer you to Delhi train Station.

08:10 AM - Arrival Agra and Visit The Taj Mahal + Agra Fort
Your train Gatimaan Express departs from H. Nizamuddin, Delhi station arround 1 hour 40 min. Journey. Tea and Breakfast will be served in the train.

09:50 AM - Visit the Taj Mahal
Visit the Taj Mahal, one of the seven wonders of the world. According to legend, Emperor Shahjehan was so grief-stricken at the death of his wife, Mumtaz Mahal, that he decided to erect a memorial to her which would be unsurpassed in beauty and grandeur. With a huge labor force of 20,000 people, it took 21 long years to complete this masterpiece.

12:30 PM - Visit Agra Fort
Visit Agra Fort a vast museum of interesting buildings, started by Akbar. Each successive Mughal Emperor right up to Aurangzeb contributed something. Construction of the Agra Fort started in 1565 and was completed in 1573.

01:30 PM: Time For Lunch
Lunch break in hotel or restaurant

02:30 PM - Visit I'timad-ud-Daulah
After Lunch, Visit I'timad-ud-Daulah (Baby Taj). Tomb of I'timad-ud-Daulah is a Mughal mausoleum in the city of Agra in the Indian state of Uttar Pradesh. Often described as a "jewel box", sometimes called the "Baby Taj", the tomb of I'timad-ud-Daulah is often regarded as a draft of the Taj Mahal.

03:30 PM
Evening free to explore the Bazaar of Agra Rich Heritage of Handicrafts Or Free At Leisure. One can buy most famous marble handicraft there.

05:30 PM : Back to Delhi
The Gatimaan Express train back to Delhi departs from Agra Cantt Railway Station at 5:50 pm and arrives at Hazrat Nizamuddin Railway Station at 7:30 pm. You will be transferred back to your hotel in Delhi, marking the end of a memorable day trip to the Taj Mahal.

07:10 PM : Delhi
Arrive Delhi and Our driver will pick you up from New Delhi railway station and transfer to the Hotel.
A Taj Mahal tour by Gatimaan Express train is a great way to visit this magnificent monument in a short time. With its fast and comfortable train journey, you can maximize your time and enjoy the sights and sounds of Agra without worrying about the logistics of transportation. So, if you're planning a trip to India, don't miss the chance to visit the Taj Mahal by Gatimaan Express train - it's an experience you'll never forget.
Inclusions - Taj Mahal Tour by Gatimaan Train
Round trip Train Fare (Delhi - Agra, Agra-Delhi)
Breakfast & Dinner in Train
Air-conditioned Car for all sightseeing & Transfer
Monuments Fee as per itinerary
Lunch at 5-star Hotel
English Speaking Tour Guide
Pickup and Drop off service
Exclusions - Taj Mahal Tour by Gatimaan Train
Gratuities (optional)
Food and drinks (unless specified)
Insuranace and Any type of Medi care
End of Tour.